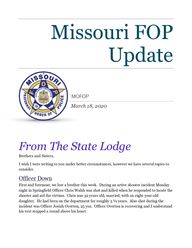 Return to flip book view
MOFOP Update - 3.19.20
Page 1
Missouri FOP Update MOFOP March 18, 2020 From The State Lodge Brothers and Sisters, I wish I were writing to you under better circumstances, however we have several topics to consider. Officer Down First and foremost, we lost a brother this week. During an active shooter incident Monday night in Springfield Officer Chris Walsh was shot and killed when he responded to locate the shooter and aid the victims. Chris was 32 years old, married, with an eight-year-old daughter. He had been on the department for roughly 3 ½ years. Also shot during the incident was Officer Josiah Overton, 25 yoa. Officer Overton is recovering and I understand his vest stopped a round above his heart.
Page 2
Table of Contents From The State Lodge 1 ..........................................Officer Down 1 .........................................................................Services for Chris Walsh - 3/21/2020 3 ..................................National Board Meeting Canceled 3 .......................................MO FOP Board of Trustees Meeting - Canceled 3 ..................Coronavirus (COVID-19) 4 ......................................................COVID-19 Resources 5 .............................................................Additional Articles and Information 5 ...................................Additional Cancelations 6 ......................................Day On the Hill - Canceled 6 ...................................................Missouri Law Enforcement Memorial - Canceled 6 ..............Police Week in Washington D.C. - Canceled 7 ........................Trustees Meeting, April 4th - Canceled 7 ................................Should You Cancel Your Local Lodge Meetings & Events? 7 .Legislative Update 7 ...............................................Missouri FOP Scholarships 7 .................................Don't forget about the FOP Free College 8 ............Stay Up To Date - MOFOP.org 10 ..........................June 5th & 6th, 2020 (CURRENTLY STILL ON AS PLANNED) 10 ..................................Preliminary Agenda: 11 ........................................................................................................Legislative Report 11 ...............................................COVID-19 Causes Session Slowdown 11.................................
Page 3
Our thoughts and prayers are with Officer Walsh's Family and our Lodge #22 brothers and sisters in Springfield. ODMP - https://www.odmp.org/officer/24490-police-officer-christopher-walsh Officer Christopher Walsh Springfield, MO Police Department End of Watch Monday, March 16, 2020 Services for Chris Walsh - 3/21/2020 Because of the quarantine and State of Emergency guidelines, the services for Officer Walsh are private. The private services will be held Saturday, March 21st, at the Walnut Lawn Funeral Home at Kansas & Walnut Lawn in Springfield. However, the procession and the graveside service has received approval from the governor to include all those who would like to attend. The procession will be at 1430 hours. The graveside service will be at Rivermonte Cemetery at 4500 S. Lone Pine Rd. in Springfield. Because of the difficulties with the COVID regulations, these plans are subject to change. National Board Meeting Canceled Along with everything else in the country the National Board meeting in Kansas City has been canceled. The National Board and President Yoes were concerned for the health of our board of trustees and made this difficult decision to protect our members and the order. We successfully canceled all the events and hopefully we will get some consideration to host the National Board in the near future. MO FOP Board of Trustees Meeting - Canceled After talking with some of you and given the state restrictions, we will have to postpone the Trustees meeting. I will be sending out additional information in hopes of finding a time that we can re-schedule. We may have to explore conducting the meeting by tele-conference as the National Board of Trustees is having to do.!
Page 4
Coronavirus (COVID-19) As I write this our Country, State, and a number of County and City governments have declared a state of emergency. I hope at the moment everyone and their families are healthy and weathering the storm so far. Every day brings new information and every day it appears this episode is getting worse. There are a lot of pundits online and on social media downplaying the significance of this outbreak. However, to us this couldn't be more real. Not only because it affects our families too, but because we will be out in the middle of it dealing with it on a daily basis. Not only being exposed to the virus, but we have to deal with the stress and anxiety of the public who are unsure about the direction this is headed. People have become paranoid about the virus, about money, employment, their mortgage, their families, food, and even toilet paper. We've never experienced anything like this and anxious and desperate people act irrationally. This spells difficulty for our members on the street. We have got to focus at this moment on how to protect our officers. Sadly, we have yet to see most departments in our area come out with a solid plan on how to deal with officers responding to calls for service. Most do not seem to have enough (or any) Personal Protective Equipment (PPE) on hand for the officer's use. Most appear to still be in the planning stage and are relying on the CDC's recommendations for police officers response and contact with the public. There has been little done for our officers in the way of education and direction, other than "wash your hands." Any exposure or department required quarantine or time off should be considered part of a work related injury and you should be covered by the department and/or workers comp. We are working on model policies and guidelines we think should be recommended to our departments. Because of this, you must REPORT ALL POSSIBLE EXPOSURES! It's also imperative that if you are at a higher risk of severe illness from the virus, you request an ADA exception so you may be reassigned to limited duty. Those who are higher risk of severe illness or mortality from COVID-19 include: ‣ Older adults ‣People who have serious underlying medical conditions like: • Heart disease • Diabetes • Lung disease You should contact your lodge attorney for additional advice. We will also be sending out additional information regarding these set of circumstances very soon.
Page 5
Your department may also be facing manpower shortages, travel restrictions, canceled days off, etc… because of the situation. Keep us apprised if you are being required to work under unsafe conditions and we will try to help. COVID-19 Resources Some of the resources available from the CDC & IACP are: • What Law Enforcement Personnel Need to Know about Coronavirus Disease 2019 (COVID-19). • LE Visor Card (COVID-19) • COVID-19 LE General Information Fact Sheet • COVID-19 Resource - Staying Healthy as a Police Officer • The IACP - Law Enforcement Information on COVID-19 • Health & Safety for LE Families Government & Medical Resources on COVID-19 • Missouri Dept. of Health • Center for Disease Control • Johns Hopskins - Coronavirus (COVID-19) Updates • Harvard Medical School - Coronavirus Resource Center • Whitehouse - Corona Virus Guidelines for America Updated Maps for Tracking, etc… • Missouri Coronavirus COVID-19 Cases • Missouri Coronavirus Hospital Tracking • Johns Hopkins Worldwide Tracking and Statistics • Worldwide Tracking and Statistics Additional Articles and Information • Why Everything Is Closing For Coronavirus: It's Called 'Flattening The Curve' • https://www.theatlantic.com/ideas/archive/2020/03/who-gets-hospital-bed/607807/ • Concerned Physicians Unite • Police One - Law enforcement planning for coronavirus staffing impacts. • Police One - Infectious Control Articles Letters and Information From President Pat Yoes and the National FOP • National FOP Activity & Memo, Re: COVID-19 • Memo Regarding Police Week 2020 • President Yoes, Letter to POTUS – Re: COVID-19 • President Yoes, Letter to Dept. of Labor - Re: Health & Safety of Officers
Page 6
Take the information and use it how it best suits you. If your department is not protecting you or your fellow officers, please let us know. Local governments have a duty to provide you with protection and to provide for you if you suffer a work related injury or illness. We will be working on an appropriate response and place for your State Lodge in this situation. Please let us know if you have any suggestions or needs from us. Everyone please be safe & Healthy! Fraternally, Rick Inglima, President Missouri FOP ringlima@mofop.org (816) 509-7911 Additional Cancelations Day On the Hill - Canceled The capital has asked that all groups cancel their visits, again due to the outbreak of COVID-19. We will not be able to reschedule this and will have to miss it this year. Missouri Law Enforcement Memorial - Canceled The Law Enforcement Memorial Board has made the difficult decision to cancel or indefinitely postpone the State Candlelight Vigil and the LE Memorial Ceremony. This was a difficult decision to make. However, they felt it best in order to ensure the safety of the participants and our surviving family members. With or without the ceremony, we will remember our fallen. ANNUAL MISSOURI LAW ENFORCEMENT MEMORIAL CEREMONIES POSTPONED INDEFINITELY FROM: Missouri Law Enforcement Memorial Board DATE: March 18, 2020 Due to COVID-19 and the recommendations of the Centers for Disease Control and Prevention to utilize social distancing to help prevent the spread of the virus, the Missouri Law Enforcement Memorial Board has decided to postpone indefinitely the annual Law Enforcement Memorial Service and Candlelight Vigil, which were scheduled for the first week of May in Jefferson City. The board felt it was important to make this decision now in order to give families and law enforcement members as much advance notice as possible to cancel hotel reservations and adjust their plans. These services are an extremely important tradition within Missouri's law enforcement community as we remember those who made the ultimate sacrifice to protect the citizens of our state and honor their friends and loved ones. The board looks forward to holding these services later in the year, once we have clarity on the COVID-19 situation.
Page 7
Police Week in Washington D.C. - Canceled We also received word yesterday that the National LE Memorial service and the surrounding police week are also canceled. This is the first time since it's inception 39 years ago that the service has been canceled. See the below info from President Yoes in regard to this decision: • President Yoes Letter - Re: Police Week • President Yoes Video Explaining the Decision Trustees Meeting, April 4th - Canceled After talking with some of you and given the state restrictions, we will have to postpone the Trustees meeting. I will be sending out additional information in hopes of finding a time that we can re-schedule. We may have to explore conducting the meeting by tele-conference as the National Board of Trustees is having to do. Should You Cancel Your Local Lodge Meetings & Events? When considering whether you should be having your local meetings the National Lodge has provided some guidelines that should strongly be considered when determining whether to postpone meetings! National Fraternal Order of Police - Meeting Activity In Response to COVID-19 Pandemic Legislative Update We were excited about our legislative opportunities this year, especially since we already had statewide residency bill pass the house last week. However, we're not sure where this will all stand based on the circumstances and the possibility that our Sate Legislature may close down. See the latest report from our Lobbyist, Mark Bruns on Page 11. Missouri FOP Scholarships Finally something good to talk about. It's time to put in for renewals and new scholarships for our kids. The lodge may award up to eight (8) scholarships or renewals for $500 per year. Applications can be found here: MOFOP Scholarship Application (Word) MOFOP Scholarship Application (PDF)
Page 8
Don't forget about the FOP Free College
Page 9
Page 10
Stay Up To Date - MOFOP.org This newsletter is again coming to you through our email system on the new website. " Please, send this to all your members and get them to sign up for the site to access the members only information. The site is full of features, information and applications for communicating quickly and directly with our members, ONLY IF YOU SIGN UP!!! You will be able to access collective bargaining contracts throughout the state to see what they contain, pay studies, legislative updates, upcoming events, cop/family activities, officer safety info, officer down reports, FOP merchandise and much more… Take the time to REGISTER @MOFOP.ORG!!!!! Missouri FOP State Conference June 5th & 6th, 2020 (CURRENTLY STILL ON AS PLANNED) Our Biennial Sate Conference will be held June 5th & 6th, 2020 in Branson, MO. This is the weekend that immediately precedes their yearly Law Enforcements Appreciation week, "Branson Salutes." This week offers discounts and a variety of gatherings and events, just for law enforcement and their families. It's worth it to bring your family to the conference and maybe even stay for a couple days after the meeting to enjoy the law enforcement discounts for the week. A schedule of events is attached below, and you can find additional information on their website, www.bransonsalutes.com. We will be staying at the Westgate Branson Woods Resort this year and we think it will be an excellent place for the conference, especially for family. You can make reservations by calling the hotel at: • 1-877-502-7058, then select option 1. • Please be sure your guests use Group Code"S/O # 65-758 when calling. • Reservations must be received by the Resort no later than""05/05/2020. • All Group guest reservations require a minimum deposit equal to one (1) night's room & tax to be charged on a major credit card. We do not currently have online room reservations for our block, but you can see the hotel and it's amenities at: http://wgbransonwoods.com.
Page 11
Room rates are: Traditional Guest Room - $98 One Bedroom Villa - $159 One Bedroom Grand Villa - $178 Two Bedroom Grand Villa - $279 Preliminary Agenda: Thursday, June 4th • Pre-Conference Board Meeting (Evening) Friday, June 5th • 1st Day of Conference (Day) • Member Dinner (Evening) Saturday, June 6th • 2nd Day of Conference (Day) • Awards Luncheon (Day) You can bring as many members as you want to attend, but remember that your lodge receives, ONE VOTING DELEGATE for every 50 members in your lodge. This does not include your state trustee. Please start making your reservations now and get us a preliminary idea of how many delegates you'll be bringing. Additional details on events, entertainment and scheduling will be provided shortly. If you need help or have questions, please contact Sarah Hardin (sarahhardin.sh@gmail.com) or Rick Inglima (rick.inglima@gmail.com). Sarah Hardin helped us pick out a beautiful property for this year's conference. Legislative Report MOFOP LEGISLATIVE UPDATE – WEEK 10 COVID-19 Causes Session Slowdown On Wednesday evening, leadership in the state Senate announced they would adjourn on Thursday and not be in session next week due to growing concerns of the coronavirus pandemic sweeping the globe. The week of March 16 is the regularly scheduled legislative spring break, so senators and staff members will have at least two weeks – and possibly more – away from the Capitol. Senate President Pro-Tem issued a statement saying "A number of our members, staff, and their families fall into populations that are at greater risk due to the coronavirus. We asked legislators if there was anything so pressing that it required us to be here now, while it is unclear what kind of viral exposure we may have already had, and the answer was 'no.' As a result, we will be pausing nonessential legislative activity in order to protect the people who work in the Capitol and to ensure we will have a quorum when we return from break to complete the budget."
Page 12
""""""""""" In the House of Representatives, the Budget Committee is slated to meet on Sunday at 2:00 pm and again on Monday at 9:00 am. The committee will do final mark-ups on the 2021 state budget in preparation for bringing the budget before the full House next week. In order to meet their constitutional duty of presenting a budget to the governor, House members will be in full session on Wednesday and possibly Thursday next week, after which they will recess for spring break. It is unclear at this time when they plan on returning to Jefferson City, but some observers are predicting a two- or three-week absence for House members until more is known about the spread of the coronavirus. The only thing certain at this point is that many legislative priorities are now in jeopardy, with the exception of the budget. "" Prescription Drug Monitoring Program Advances """"""""""" The designation of Missouri being the only state in the nation without a prescription drug monitoring program may be coming to an end. After passing the House nearly a month ago, HB1693 was brought before the full Senate on Monday for consideration. After a debate that lasted nearly eight hours, a compromise was reached which allowed the bill to move forward. At the heart of the matter for opponents were patient privacy concerns over a government run database containing health information of thousands of Missourians. Supporters of the measure countered that a statewide database could help turn the tide on the ever-increasing number of opioid deaths."" The deal that was struck around midnight would allow the implementation of a "Joint Oversight Task Force" instead of the Department of Health and Senior Services to oversee the drug monitoring program. The task force would be made up of two physicians, two pharmacists, one advanced practice registered nurse, and one dentist. "The idea was to move it out from a governmental entity and make it more a private-sector approach where the actual prescribers and dispensers would be in control of the PDMP," said Senator Tony Luetkemeyer, who handled the bill in the senate. An additional piece of the puzzle was language that prohibits law enforcement from accessing the program. Once those provisions were in place, those opposed to the bill ended their filibuster and allowed a vote to take place. Ultimately, the senate passed the bill by a 21-10 margin when the bill was brought before the body for a final vote. The measure now returns to the House for their concurrence with the changes made in the senate. It is anticipated for the new version to pass easily and then head to the Governor for his signature." ACTION ON BILLS OF INTEREST Police Officer Residency On Monday, the House of Representatives took up HB1604 for a final vote before it heads to the Senate. The bill states that no municipality can establish a residency requirement for police officers any more restrictive than a one-hour response time. Several St. Louis area Representatives rose to speak in opposition, but House leadership cut off debate with a
Page 13
procedural motion, thus prohibiting opponents from speaking. When the votes were tallied, the measure passed by a 105-41 margin. The bill is now in the Senate awaiting committee assignment." LEOBR HB1889, which is the Law Enforcement Officers' Bill of Rights had been scheduled for a hearing next Monday in the House Crime Prevention and Public Safety Committee. However, due to the coronavirus scare, the hearing has been postponed. While this is a setback, the sponsor of the bill, Representative Nick Schroer is actively looking for other bills that can be amended with our Bill of Rights language. Additionally, Representative Ken Wilson, chair of the Crime Prevention and Public Safety Committee has said he will reschedule our hearing as soon as activities at the Capitol resume. Witness Protection On Monday, the Senate Judiciary and Civil and Criminal Jurisprudence Committee met to consider SB857 sponsored by Senator Tony Luetkemeyer. The bill creates the "Pretrial Witness Protection Services Fund", which allows DPS to dispense money from the fund to local law enforcement agencies for the purpose of protection of witnesses and their immediate families. After a brief discussion, the committee approved the measure on a 6-0 vote. The bill now heads to the full Senate for additional consideration. Tuition Reimbursement The House Crime Prevention and Public Safety Committee met to consider HB2628 on Monday afternoon. The bill is sponsored by Representative Lane Roberts and is designed to provide a method for reimbursement of tuition and fees associated with attending a basic law enforcement academy in order to achieve POST certification. The reimbursement would be available to individuals who obtain certification on their own and also to government entities that employ peace officers. The fund would be administered by the POST Commission. We testified in support of the measure. No vote was taken on the bill. Hearings of Interest Because of the coronavirus precautions in the Capitol, there are no Senate hearings scheduled for next week and only a handful of House hearings. None of the hearings deal with bills impactful to the FOP. Please note that hearings may be added or changed at any time. For an update of House hearings, click"here. For an update of Senate hearings, click"here. Report of ALL Missouri FOP Tracked Bills: https://www.mofop.org/MOFOP_WK10_AllTrackedBills.pdf Mark Bruns / Bruns and Associates, LLC!
Page 14